Vegetarian restaurants in Rome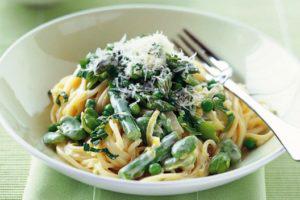 Did you know that in Italy we can brag about a certain European achievement? About 10% of the Italian population, more than 6 million Italians choose to be vegetarians.. The motivations are for different reasons, thanks to the complicity of Mediterranean cooking, that permits captivating alternatives , putting Italy in first place, for lovers of a "green" table.
In the splendid and immense city of Rome and vegetarian restaurants, you can find many and for all different tastes. For a city used to numerous crowds, it knows very well how to indulge the most varied food requests: Vegan, vegetarians, but others who have food intolerance, for instance celiac disease. For this reason today, we will speak of some of the more appreciated and known restaurants in the capital and I assure you, we will not be speaking only of salads, but of true "elite" food.
A space where being in a hurry does not exist. Relaxing moments for a peaceful dinner in the vegetarian restaurant Le Bistrot. Vegan dishes offered in addition to vegetarian dishes. Le Bistrot is a cozy , delicious restaurant opened in 1987, in the Garbatella area of Rome, characterized by a warm and relaxing atmosphere, like being home. A few tables, with beautiful table linens, soft lighting and a beautiful crystal chandelier. From a large mirror behind the counter , to a small old fireplace.( best description to give you a way to imagine it).
The menu choices would satisfy any vegan or vegetarian palate, but also choices for those who are celiac. An ample choice between 100 labels of wine. Famous for tortellini filled with pumpkin and apples with butter and sage, perfect in its delicate and light taste. Main courses use cheese bases, as in Tomino cheese and pears with drizzled balsamic, plated in a most creative way.
We also find some French dishes, as in snails in burgundy sauce( here, we speak only of a vegetarian style dish) or a delicious French onion soup. Also the side dishes are very appetizing, having nothing to be envious about over other dishes. for example, Radicchio with oranges.Between the undeniably tasty desserts ,we find the apple fritters.
The menu is prepared with the highest quality ingredients,with a daily changing menu, utilizing the freshest and most available ingredients of the season. So as you can see, we are speaking of a vegetarian restaurant that has something for everyone, embracing various tastes and life philosophies, because eating should be a social and pleasant experience. Directions: Via delle Sette Chiese, 160, Area: Garbatella..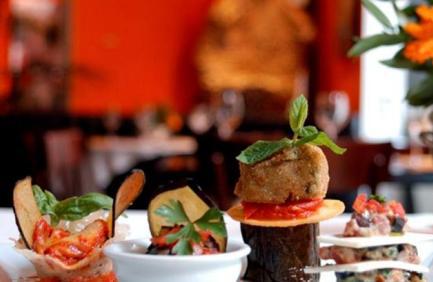 The restaurant , Margutta Ristorante, is one of the most renowned vegetarian restaurants in Rome. It opened in 1979, as one of the first in vegetarian cuisine. It is probably consider one of the best, if not the top vegetarian restaurant of the Urbe region. The atmosphere is pleasant and in a unique location on Via Margutta.. Modern in design, between the red velvet and noted art collection. Margutta Ristorante in located among some of the most busy art galleries, famous for their contemporary art, where art exhibitions take place for some of the more well known artists and alternately, for some of the young up and coming artists., selected with care. The restaurant offers prime quality and natural products, starting with the olive oil, extra virgin olive oil first cold press, the organic flour made with grains such as kamut, spelt and corn, wines and organic ciders. For brunch, Monday through Friday, the cost is 12,00 euro, on weekends and holidays the cost is 25,00 euro.. The buffet consists of more than 50 recipes, totally organic and prepared in a way to maintain the maximum nutritive value of every product , enhancing its flavor. In the evening , the menu changes. The dishes are more refined and the prices follow suit.The dinner atmosphere is relaxing, thanks to the frequent treat of live piano music, a romantic and intimate touch to the evening.
The restaurant,L'Arancia Blu offers avantgarde vegetarian cooking, located just behind piazzale Flaminio, in the heart of Rome. It's a little corner of elegance and tranquility, where you can eat and drink well.
The restaurant is very cozy, having only 10/12 tables, a choice that permits the staff to take special care of clients. The food is exquisite and stands out for its refinement of dishes and the choice of ingredients. Side plates that stand out are hand wrapped and filled pastas, desserts and the elaborate traditional dishes. For those who are looking for quality and light atmosphere, this is the right place. Excellent wine( we opted for a nice white wine) worthy pairing to exquisite cooking. Directions: Via dei Latini,55.65 San Lorenzo area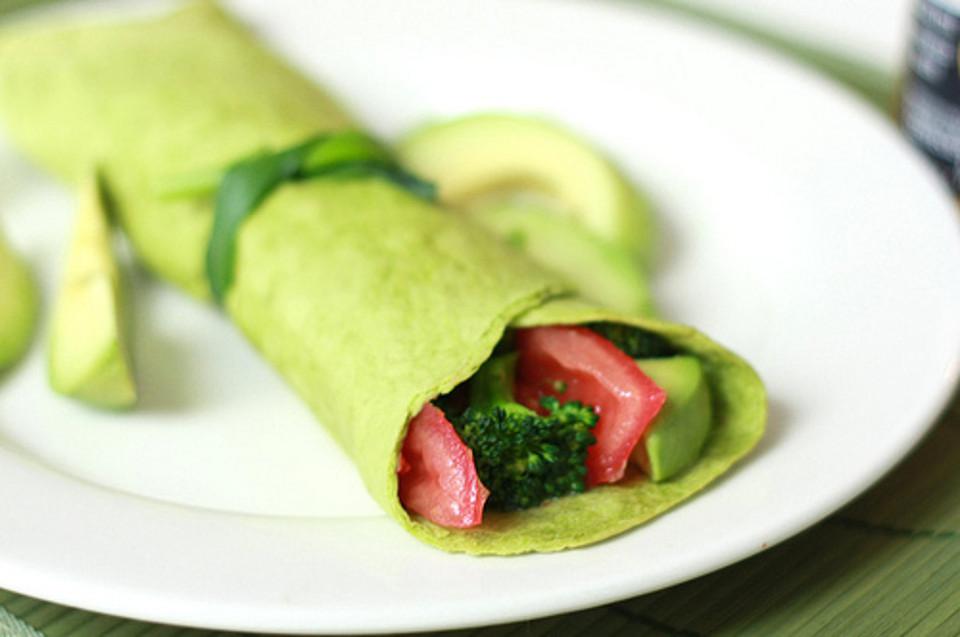 Centro Macrobiotico: The offers are varied in this restaurant, since this menu is based completely on grains,legumes and vegetables, and those items dedicated to people who are celiac. It is strictly controlled and completely organic. Saturday is not to be missed there, because in the evening it is vegetarian pizza night. Special preferential treatment goes to students and over 60's. Prices are pretty much within reason. Directions" Via Moricca, Prati area
L'Insalatiera: The first "Vegetarian Tavern " of Rome, you can find it in the Prati area of Umbertino., in the vicinity of San Pietro, near Piazzale Clodio. Traditional Italian cooking partnered with vegetarian cooking. that creates a tasty and appetizing menu. that is light and nutritious. Baked never fried, pastas and desserts made in house, by hand all with the lightness and digestible goodness.. In comparison to other vegetarian restaurants, The Vegetarian Tavern is the place where the cult of vegetarianism mixes with a cordial staff, and affordable prices. The food is beautifully presented esthetically as well as having elevated quality. The prices, we reaffirm, are honest for vegetarian and vegan cuisine, and the courteous staff make the experience even more precious.. Directions: Via Trionfale, 45 Prati area
GecoBiondo: Fixed menu, balanced. Seasonal products and certified organic ingredients ( by AIAB, the Italian Association of Organic Agriculture) . Vegan desserts, naturally leavened bread baked in wood ovens, organic wines and beers, coffee made from barley ( fair trade) . The place is quite particular, it is described as a tavern with rustic wood furniture, geographic maps, flags and music. The Geco Biondo guarantees different dishes every night, a cornucopia of kamut, bulgur and seitan, vegfriendly food in complete vegan style, but also there are recipes where the traditions and the veg are complimented , as in the pate 'of leeks and nuts, with grilled vegetables , salted tarts and seitan. If you don't like the menu or you want to choose from other dishes, this is not permitted, since the menu is fixed.The portions come in three sizes, small, medium and large. Large choice of desserts, also vegan , and drinks.The prices are a little high because the ingredients are completely organic. A very friendly environment with regular clientele. There is also outside space where a few tables are available for seating. Directions: Via G. Cardono 105
il Ristorante di Liila: Vegetarian and Vegan organic foods. Located in the Mentana part of Rome, you will find this organic restaurant. with the possibility to call in take out orders to assure the freshness and authenticity of the dishes. The place is not very large, we count about 20/22 tables, characterized by a down home atmosphere and friendly staff.. The place is well cared for and clean with attention to details., like their painted mural. Good choice of vegan recipes with premium quality ingredients and a complete overview of the vegan world. The menu is truly delicious, introduced by a story rich in meaning. I leave you all with the desire to discover it. Directions: Via III Novembre,59 Mentana
Aloma: In a small attic, in the heart of Rome, they offer traditional Italian and Mediterranean cooking, but also Arab, Mexican , Indian , even Russian reworked in a natural and organic manner. On the fourth floor of a building and a few steps from Via del Corso and Piazza di Spagna, you will find this small place. Nice round tables, bookcases filled with organic cooking products in view. The choices vary every day. Lunch is practically a buffet. Fast and light, ideal for a lunch break.. At dinner, it becomes a true restaurant, with real vegetarian and vegan food.. A jubilation of tofu, seitan and tempeh . Aromas from the Orient for cooking, along with exotic spices, like curry, cumin, tamarind, and particular dishes such as falafel and todi. For the traditionalists, there are chickpeas, rice, lentils, vegetables but also vegetarian lasagnas. Medium to high priced food but with excellent service. Directions: Via della Vite,14 ,4th floor
eat, food, restaurant., rome, vegetarian, vegetarian restaurants