SAINT PETER CATHEDRAL AND SANT'ANGELO CASTLE
A few steps away from our Bed and Breakfast you will find the Saint Peter cathedral and the Vatican museums. Here, you can admire the marvelous frescoes of Raffaello and Michelangelo, and an exceptional collection of art d'oeuvre gathered by the Popes along the centuries. Walking along the Via della Conciliazione (The Street of conciliation) coasting the Tevere, the mythical river that always accompanies life in Rome, you will reach Sant'Angelo Castle.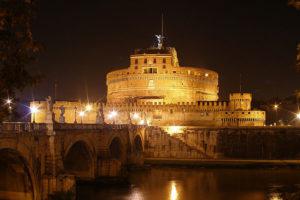 This castle should have had a funeral function, according to Emperor Adriano's wishes, but it ended up with another role, becoming a defense fortress for the city. The castle is full with interesting things to see from execution courtyard, where the executions used to happen, to the prisons and the Hall of Apollo – the magnificent apartment built by Pope Paolo the 3rd. Going back towards our reception from Via Degli Scipioni street, within a few meters, you can see the metro station called Ottaviano, thanks to which, you can move easily around the entire Rome.