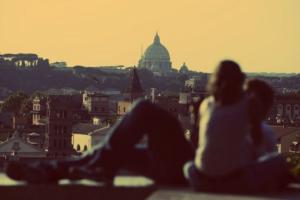 Among the most romantic cities in Italy, other than the beautiful Venice, or the charming Florence, we are a little ( but only a little) bit partial to mention the city of Rome.
Even with its easy going and always happy feeling ,Rome knows how to hide behind its ruins or in the glimpse of Trastevere, between the cobble stoned streets and the ivy on the red houses, leaving a splendid view.
The beautiful city of Rome, with its' marvellous squares ( piazze), like The Spanish Steps with its beautiful staircases, or Piazza Navona with its' fountains, gives a glimpse of its romantic seduction. But not only the squares, for when in Rome ,its essential walk and walk and walk, and to arrive at The Garden of Oranges, where couples go to exchange gifts and promises of love.
A Roma, Imagò - Hotel Hassler, Restaurant Consolini, ST.VALENTINES DAY IN ROME